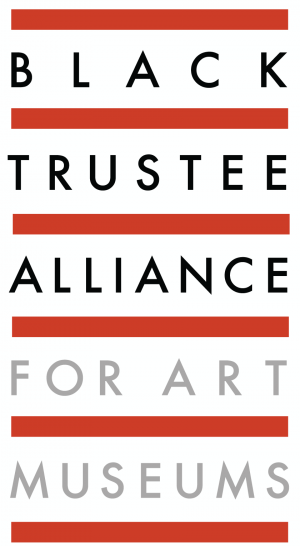 is to increase the inclusion of Black perspectives and narratives in North American art museums to make our institutions more equitable and excellent spaces of cultural engagement.
We as trustees are responsible for ensuring the sustainable management of our institutions, and to do so is to hold them accountable for embracing the full and complex histories of the visual culture that they represent.
While there are numerous sources of inequality to be addressed in the field, we have identified three areas of focus:
We will address these areas of inequality by creating a community of Black museum trustees that actively supports one another, artists, Black museum leadership and staff; developing tools to enable our trustees to be more effective in navigating change and transforming their institutions; and elevating our collective voice to advocate for Black representation and support/amplify the work of other organizations in the field.
The Black Trustee Alliance for Art Museums is an organization of and for Black trustees currently serving on the boards of art museums within North America.
ADVISORY BOARD

(2021 – present)
Raymond J. McGuire, Co-Chair
Victoria Rogers, Co-Chair
Denise B. Gardner
Edward Greene
AC Hudgins
Pamela J. Joyner
Alison Leland
Celeste Watkins-Hayes
STAFF
Brooke Minto, Executive Director brooke@blacktrusteealliance.org
Izzy Greene, Program Manager izzy@blacktrusteealliance.org
FOUNDING COMMITTEE (2020 – 2021)
Black Trustee Alliance for Art Museums
c/o Rockefeller Philanthropy Advisors
6 West 48th Street, 10th Floor
New York, NY 10036
For general or press-related inquiries, email us at
admin@blacktrusteealliance.org